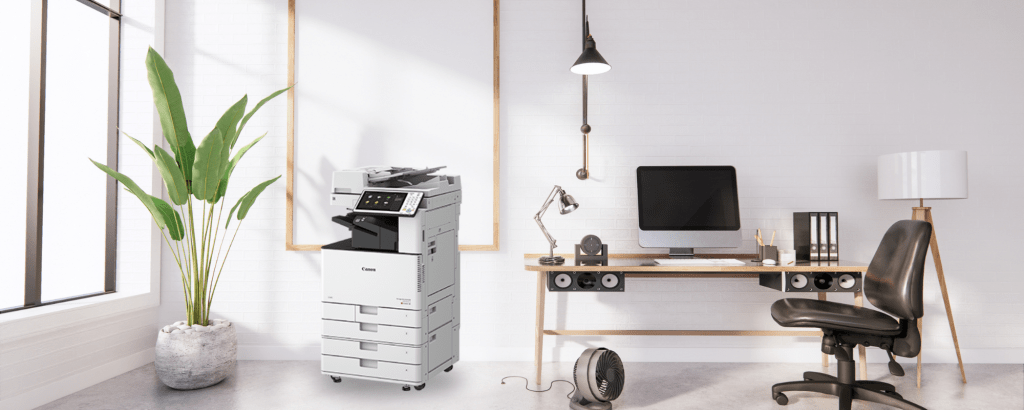 Canon's printers are ideal for busy homes, workplaces, and student customers because of their extremely cheap running costs and user-friendly features. Instead of using traditional cartridges, they include built-in, refillable ink tanks with extraordinarily high-yield bottles. They will help you print for months or perhaps years to come since they can print thousands of pages from a small number of ink bottles. Since new inks won't need to be ordered as regularly, less plastic waste will also result from this. A Canon printer has multiple advantages for your business.
Saksham Office Provides You The Best Canon Printers On Lease
We offer high-quality Canon  printing units at Saksham Office on a rental basis. Our solutions, whether high-end or low-end, are tailored to your needs. Heavy duty laser printers are available from us in either color or mono, with options for per-page, per-job, or flexible customer selection. We offer the best Canon  photocopying machines and operator support for events, small businesses, and large offices. We work to meet your needs for response, resolution, and standby times so your printing operations do not come to a halt. We provide free online and off-site service support for our rental Canon printers.
Grow Your Company's Business With Canon Printers On Lease From Saksham Office
Canon has some of the greatest multifunctional copiers on the market right now, making them ideal for businesses, especially those that are expanding and growing. These printers are effective and strong and give staff members the chance to scan, copy, fax, or print high-quality documents very quickly. Your office's structure, communication, and documentation will all improve with a Canon copier, which will ultimately result in more revenue.
Benefits Of Leasing Canon Printers From Saksham office
User Friendly- Some of the easiest-to-use equipment on the market right now are Canon copiers. Your staff will quickly pick up on the new machine thanks to this. They will also be able to handle the majority of printer problems without having to contact your tech support team or a Canon professional.
Excellent Customer Service– The Canon customer service staff excels. If a problem ever occurs or you have a query that the manual cannot address, getting in touch with a Canon customer care agent will be simple and beneficial. Everyone who approaches them receives fantastic responses and assistance from their experienced and welcoming staff.
High Production Speed– An additional benefit of a Canon copier for your workplace is its fast production speed. No of the size, you want your workplace to function as efficiently as possible when you're running it. This applies to employees who fax, scan, print, or copy documents on the copier. Employees shouldn't have to stand in line to print documents because the printer is taking too long. A canon copier will work with high production speed each time it is utilized and for any purpose
Direct Scan– One of the best parts about a canon printer is the ability to direct scan. The direct scan capability of a Canon copier is one of its most well-liked benefits. Direct scan to email and direct scan to PDF functions are built-in into Canon copiers. This may now be done without having to constantly rush to your computer.
If you're looking to rent a Canon printer for your workplace, Saksham Office offers a wide range of canon printers on a rental basis for all your office needs.
Frequently Asked Questions:
There is no fixed answer to this as it completely depends on your business needs and your business size. If you are a small business but you need a huge printing work to be completed in a day, you can choose the printer leasing services. On the other hand, if you require minimum to an average printing in a day, you can choose the other rental packages that we offer.
Fortunately, there is no requirement of maintenance as we have the professionals who will take care of the installation and maintenance service of these high-end printers. All you need is to make sure that you use it as per your requirements and enjoy our services.
If you are someone who is willing to own the entire Canon printer, you can definitely reach us. We offer the Canon printer rental services along with we also sell printers if our clients require.