About Us
WE OFFER A DIVERSIFIED MULTIFUNCTION DEVICE SETUP & SOLUTIONS TO BUSINESSES
Saksham aims at offering quality documentation needs to businesses. With decades of experience under our belt, we have understood the needs and challenges faced by small and mid-sized businesses. So, our MFD, heavy-duty scanner, and printer rental services can ensure fulfill your day-to-day requirements without burdening you.
We offer other technical services for our clients that help them to use these high-quality devices with much ease. With Saksham, everything is possible.
+91 9810-536-170 or 9911-924-590
Acquired The Trust Of Over 3000 Customers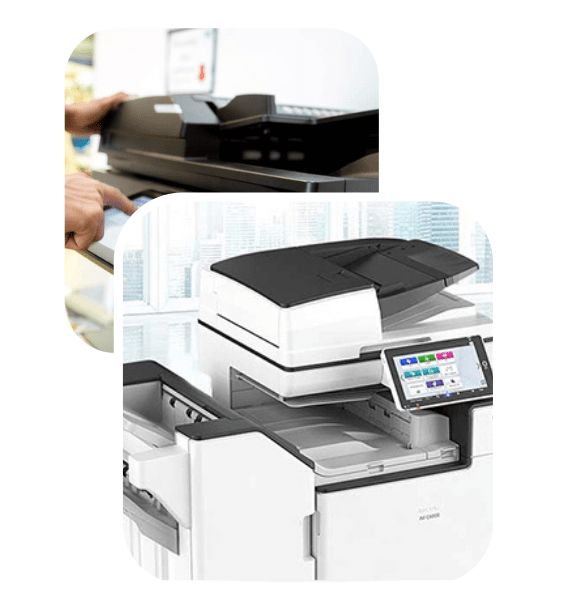 Top Photocopier Rental Company in India
Rent High-Quality Photocopiers for Your Business
Welcome to our website, your one-stop destination for all your photocopier rental needs in India. As the leading photocopier rental company in the country, we take pride in offering top-notch services to businesses of all sizes. Whether you are a small startup or a large corporation, we have the perfect photocopier rental solution to meet your specific requirements.
Why Choose Our Photocopier Rental Service?
At Sakshamoffice, we understand the importance of having reliable and efficient photocopiers in your office. That's why we provide an extensive range of high-quality photocopiers for rent. Here are some compelling reasons why you should consider renting a photocopier from us:
1. Cost-Effective Solution
Investing in brand new photocopiers can be a significant expense for your business. By opting for our rental service, you can avoid the upfront costs associated with purchasing equipment. Our flexible rental plans allow you to access the latest photocopier models without straining your budget.
Technology advances rapidly, and photocopiers are no exception. By renting from us, you can enjoy the benefits of using cutting-edge equipment without worrying about becoming obsolete. We regularly update our rental fleet to provide you with the latest photocopier models equipped with advanced features and functionalities.
5. Flexibility and Scalability
We understand that business needs can change over time. With our rental service, you have the flexibility to upgrade or downgrade your photocopier as per your evolving requirements. Whether you need to increase productivity or streamline costs, our scalable solutions can adapt to your business demands.
2. Wide Selection of Photocopiers
We offer a diverse selection of photocopiers from leading brands, ensuring that you find the perfect match for your business needs. From compact and versatile models for small offices to high-speed and feature-rich machines for larger enterprises, we have options to cater to every requirement.
4. Expert Guidance and Support
Our team of experienced professionals is dedicated to ensuring that you receive the best possible service. We will guide you through the selection process, helping you choose the most suitable photocopier for your business requirements. Additionally, we provide ongoing technical support and maintenance, ensuring smooth operation throughout the rental period.
Renting a photocopier from a top rental company like ours provides numerous advantages, including cost savings, access to the latest technology, and expert support. At Sakshamoffice, we are committed to delivering exceptional service and meeting your photocopying needs effectively.
Browse our website to explore our extensive range of photocopiers and rental plans. Contact us today to discuss your requirements and let us help you find the perfect photocopier rental solution for your business. Experience hassle-free photocopying with the best rental service in India
Superior Quality Technical Devices For Multiple Use
Offering Different Rental Solutions To Help Businesses
Why Saksham?
We Understand Businesses & Their Diverse Requirements
At Saksham, we make sure to offer a range of solutions to help businesses choose as per their budget and requirements. We are your one-stop solution to acquire the top-notch document solution.
Our Work Process
We follow a thorough work Process
Choose a service
You need to first choose the service that you wish to take from us based on your needs.
Plan a meeting
We will schedule a meeting to discuss the details and give you an effective plan depending on your requirements.
Create a custom plan
Based on the plan you choose, we will customize it to make it profitable for you and let you use it.
Start using devices
We will send professionals for installation so that you can start using the MFD Devices.
Great Solution for Small & Mid-Range
Business
Saksham provides you with an opportunity to choose MFD devices on rental services. We specialize in it and ensure surpassing your expectations.
At Saksham
We Grow By Helping You To Grow With Advance Devices
Best services come through the best people. I have been a part of and connected to this company for a long time. Best work and exceptional people with vast knowledge. Best of Luck Saksham Office Automation.
Our Blog
Check Out Our Latest News
Nice service
Deepak Kumar Shukla
2022-09-23
Nice services, good and skilled manpower and engineerirs positive response all time's I appreciate always
Panna Choudhary
2022-09-22
Excellent service provider on pan India we are really appreciate to Saksham Team.
Sivamurugan Kannan
2022-08-24
I went for interview, there I found that is Good place to work. Feel motivated when I am met the people from Saksham.